We often see the QR code. Did you know that it was actually developed by Denso? The company is a major automobile parts supplier that boasts the largest share of parts in the industry. However, in recent years, they have also focused on new business initiatives that make use of the advanced automobile technology they have cultivated so far, and are producing epoch-making products for solving social issues. This time, we talked about the company's approach to "new business", examples of initiatives, and future prospects.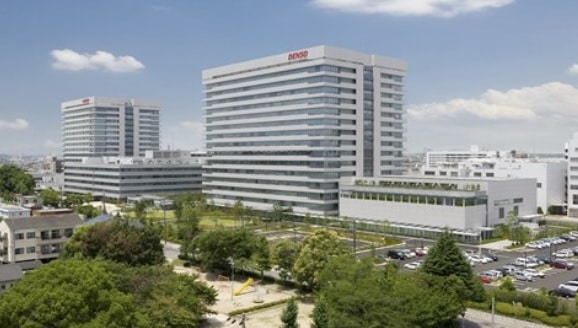 History began with motors and sheet metal
DENSO was established in 1949 as Nihon Denso Co., Ltd. by separating the electrical components and radiator divisions from Toyota Motor Corporation. Currently, as one of the world's leading automobile parts suppliers that provides advanced automobile technologies, systems and products to automobile manufacturers, they are expanding our business in more than 35 countries and regions around the world. Their consolidated sales in FY2013 were 4,095.9 billion yen, and the total number of employees in the group was about 140,000.
Although it is a large company, the scale of the company was small when it was separated from Toyota Motor Corporation. Mr. Shigeo Numazawa, general manager of the technical planning department says "At that time, we had only technology centered on motors and sheet metal, and the main products were alternators and radiators. In order to support our employees in the midst of the recession, we even made washing machines and radios."
Against this backdrop, the company came to a turning point in 1953. With a view to expanding its business field, they signed a technical tie-up agreement with Robert Bosch of Germany for electrical components. Bosch, which boasts the world's number one position as an automobile parts supplier, is a model company. Since that time, Bosch, which has been engaged in consumer goods such as power tools, electric refrigerators, and TVs, is now advocating a 50:50 sales ratio for the automobile and non-automobile businesses. Mr. Numazawa says "It is still inspires the company."
Strengthen new businesses as a core businesses
In fact, the company has a history of working on new fields other than the automobile business. Mr. Numazawa says "Development for automobiles requires high technology in terms of small size, light weight, durability, cost, and environmental friendliness. Therefore, we can apply this to new products and finally put new technology into practical use in automobiles. We have also been working on pioneering application in other product fields in order to achieve this."
For example, in the 1970s to 1990s, they were involved in amateur radios, car phones, mobile phones, and other food waste disposers and water purifiers in the environmental field. However, from the end of the 90's to the beginning of 2000, when the automobile industry, which is their main business, showed signs of growth in the BRICs, etc., these new businesses were reduced or suspended as if they were being fueled by it.
It was President Fukaya who stopped it at the time. Mr. Numazawa says "From around 2000, we launched an informal system to support individuals who challenge new fields. In 2005 it became a formal department under the direct control of the president, and was strongly promoted."
If the automobile industry becomes active, the personnel will concentrate on the automobile business. If it becomes depressed, they will seek new businesses from scratch. The company has been repeating this process for some time. "That's not good. No matter how busy the automobile business is, the buds of new businesses and human resources who take on challenges must be nurtured from now on." Based on this president's idea, they formally steered in the direction of continuing to promote new businesses.
Then, three years later in 2008, the Lehman shock broke out. The impact was enormous with sales declining by about 20% and operating income falling into the red. Mr. Numazawa says "We realized once again that our business structure was so weak, and raised a sense of crisis. In order to analyze and examine such a situation and overcome the situation, the business strategy office was established. It was the first time to name "Strategy" in our organization."
As a result of analyzing the current situation in this business strategy office, two things were derived. The first was that we had not been able to respond well to the aftermarket. It was a reflection that if we focused more on after-sales service and products such as repair parts required for maintenance instead of relying solely on the sales of new cars, they would not have been hit so much.
Second, if they looked at their business in their portfolio, the automotive sector accounted for 98%, and new businesses accounted for only 2%. Cars are expensive purchases for consumers, and the unit sales are highly dependent on the economy. As long as they continue to do business with their current portfolio, they will be hit hard in the event of a recession. That is why they came to the conclusion that increasing the proportion of non-automotive businesses, which is new businesses, is an urgent issue.

What are the "three MUSTs conditions" for new businesses?
They had supported dozens of challenging human resources who nurture the buds of new businesses. It was the time to make a leap. However, there was no organizational base to consider trying to tackle it in earnest. Mr. Numazawa says "Although there was a big direction from management, it was not clear what kind of field/market to tackle with what kind of thinking and organization, and there were not many members who could have deep discussions within the company. Then, I asked JMAC to be a discussion partner." It was in 2009. The discussion was attended by President/CEO, Chief consultant, and other several consultants in JMAC.
The JMAC consultant says "Denso has a very strong operation, and once the direction is decided, they have a sense of speed, and can manufacture high-quality products. However, in order to think about things on a zero basis, we had to carefully consider what kind of organization and mechanism should be created." He recalls "We had a deep discussion without time limitation."
Mr. Numazawa says "JMAC consultants, for example, when working on a project together, come down to the same position and perspective as "Let's do it together" like a Denso employee. Rather than imposing a consulting style, JMAC had a stance of thinking and worrying together. So I felt that the process of thinking was my own." With this discussion as a trigger, the significance and goals of the new business were set, and the efforts were gradually recognized within the company.
In this way, their discussions proceed to define the business domain in the company. Just because you have high technology developed through automotive business does not mean to go in any direction. If the new business goes out to an excursion and the entire business is dispersed, each one will be weakened. It was necessary to set a sense of direction to some extent. After internal examination, Denso finally set the "three MUSTs" condition as a condition for deciding the field of new business.
The first is that it is a stable business field that will continue to grow. It is a challenge to new business areas that only a large company can do. The second is not a complete excursion, but a field where the company's strengths such as technology and sales channels can be utilized. And thirdly, this is the most difficult condition, there is a "reason (significance)" for the company to do the business. It is an indispensable condition for continuous efforts for new businesses.
Mr. Numazawa says "We have come to the conclusion that it is necessary to first utilize our own technology to go to the automobile peripheral business, and then indirectly to solve social issues with "virtue" and to select one that can contribute uniquely to our company."
Deep digging of new business has started under the condition of "three MUSTs"!

Challenge social issues with epoch-making products!
The direction was decided, and in 2010 they proceeded to dig deeper into new business themes such as food. As a result of various efforts, one of the representatives who has "three MUSTs" is the medical equipment field. Specifically, it is a device called "Sleep Eye" that can easily perform screening tests for sleep apnea syndrome. This is an application of Denso's automobile occupant detection center technology, and is a unique method that extracts respiratory changes from minute weight-center movements by simply laying it on a bed to detect an apnea state.
Mr. Numazawa says "Although the diagnosis of sleep apnea syndrome had to be done in the hospital at that time, anyone could easily measure it by simply placing "Sleep Eye" on bedding at home and sleeping. It also provided an opportunity to encourage many potential patients to undergo early diagnosis and treatment."
At the beginning of development, the company did not have a clear direction to enter the medical device field. However, even in Japan, the number of patients with sleep apnea syndrome was estimated to be more than 2 million, and they did not even notice it because they had no subjective symptoms. It was a big social problem when the frequency of traffic accidents was 3 to 5 times higher due to not being able to sleep soundly.
Mr. Numazawa says "It is a challenge to a new market to face the big social issue of "sleep apnea syndrome" with the products which can be applied with our own technology. As a result, we can reduce traffic accidents. I felt it was very significant as a company involved in the automobile industry. I have redefined it as a field where the "reasons (significance)" exist and Denso should work on."
On the other hand, they have begun to work on further strengthening of human resource development. Mr. Numazawa says "I am originally an engineer, but engineers can develop truly useful technologies and start new businesses by engaging in discussions and work with people from outside the company and different fields. I think we need the human resource development which trains individuals practically. So, instead of solving the past business cases of other companies, the participants should bring their current issues to JMAC and think about it together. We are working for the "practical workshop" with JMAC." The JMAC consultant says "Denso's natural level was already very high, and I thought that by broadening their horizons, acquiring skills such as marketing, and conducting deep discussions, their individuality could be trained."
Expected to bridge to the open innovation
In 2004, the company clarified the values and beliefs that should be shared by the entire group as "Denso Spirit." Since founding, it has been inherited as tacit knowledge, but in order to pass on Denso's DNA to the next generation without fail as the scale of the company expands, they dare to clarify it and connect it to the actions of all employees. They are "advanced", "trust", and "total wisdom and total power". The idea is to create a culture in which even large companies can boldly take on the venture spirit and to make people in any positions facilitate the challenge by their subordinates.
Mr. Numazawa says "When developing technology, it is natural to make many trials and mistakes before achieving the finished product. The same is true for business development. However, if it is an unavoidable failure, I think it is important to make a small failure as soon as possible."
To do so, Mr. Numazawa emphasizes to make a hypothesis first, execute it, and correct the hypothesis by verification. The speedy repetition is important. In the second challenge, it is most important to derive and approach "what should have been thought in the situation at that time" as a lesson from the previous failure.
Mr. Numazawa says "There is a limit to solving major social issues with only one company. Each company has its own business domain, and I think that the consulting firm such as JMAC has the most valuable information. From now on, the open innovation will be important to create the future with many players together. I hope JMAC plays a role as a bridge."
It is expected that various products will be produced in the world from new businesses that make use of the company's automobile technology, which will lead to the solution of the problems facing our society. It may be fed back to the automobile industry and contribute to the further development of society. The challenge with Denso's "reason (significance)" continues.

Comment from the consultant in charge
Determine the direction to go, then do not shake.
It is natural that we will surely carry out what we have decided as a company policy. On the other hand, it is becoming more and more important for companies to decide in what fields they should develop their business for the future. In order to decide the direction to go, it is indispensable to clarify "who is happy" and "for whom is the product/service". As in the case of Denso, the social problem-solving businesses are fields in which the technologies and know-how of Japanese companies can be fully utilized. Denso has determined the direction, and is conducting thorough technological and business development without blurring toward its realization.